Singapore, a melting pot of different races and culture, prides itself in having her people respect each other and who are able to freely celebrate and practise their beliefs.
With the ever-increasing number of multi-cultural residents coming from diverse background, there is always a reason to get together and celebrate, be it with family or friends. In this first part of our write-up, we bring to you the more well-known and widely celebrated festivals in Singapore.
CHINESE NEW YEAR
Owing to Singapore's majority of Chinese residents, Chinese New Year or Lunar New Year is celebrated widely. The day marks the first day of the of the first lunar month in the Chinese calendar. Weeks leading up to the big day, the ethnic district of Chinatown will be aglow with lights, lanterns and brightly colored decorations. Reunion dinners, exchanging oranges, gifting of the red packets is part of the celebrations. To usher in more good luck, lion and dragon dances, accompanied with God of Fortune characters are commissioned by local companies to perform and bless their homes or businesses.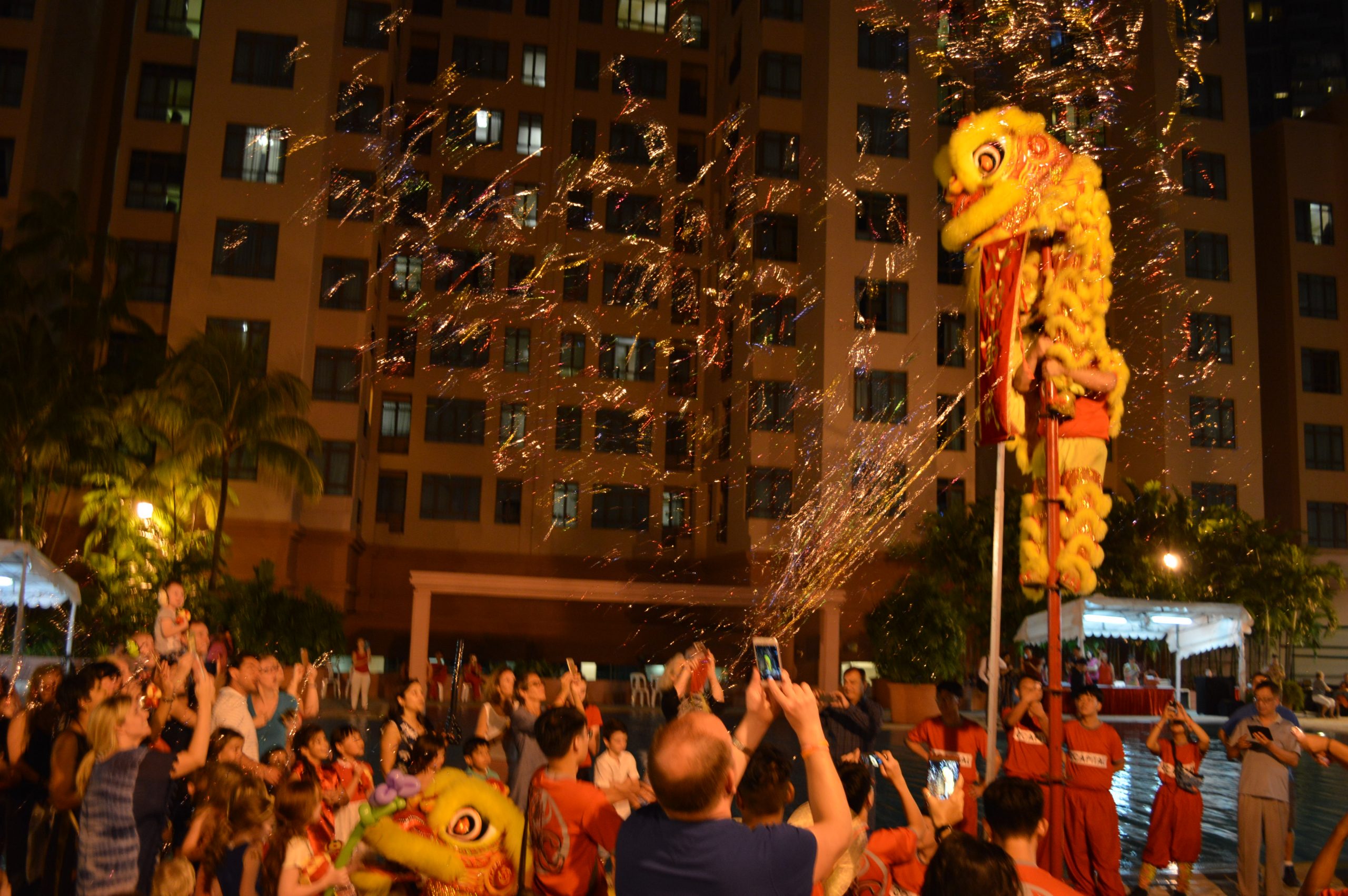 A "lion" balancing on a pole is just one of the many highlights of a lion dance performance held at Great World Serviced Apartments' annual Chinese New Year celebrations.
Greetings of "Gong Xi Fa Cai" or Happy Lunar New Year are common during this period.
The highlight of the celebration is the Chingay Parade, where impressive and colourful floats and street performances make their way down Orchard Road.
VESAK DAY
A quiet celebration compared to most other festivals, Vesak Day is celebrated on the fourth month of the Chinese calendar, on a full moon day. Though the date may differ across countries, Buddhists remember this day as the birth, enlightenment and passing of Gautama Buddha. They spend the day singing hymns and listening to their monks recite verses to invoke peace and happiness among its people.
HARI RAYA PUASA
Often mistaken as a new year's celebration for the Muslims, Hari Raya Puasa marks the end of the fasting month of Ramadan, the ninth month in the Islamic calendar. It is a day to celebrate after a whole month of abstaining from anything excessive, when Muslims all over the world refrain from eating and drinking, among other activities, from dawn to dusk.
On this day, family and friends visit each other's home in traditional clothes to partake of good food and to strengthen their familial ties or friendship.
During the fasting month, bazaars selling goodies and traditional outfits will pop-up around the island, mainly in Jurong, Woodlands, Tampines and the biggest, being the one in Geylang, where the streets are lit up in colourful and festive lights.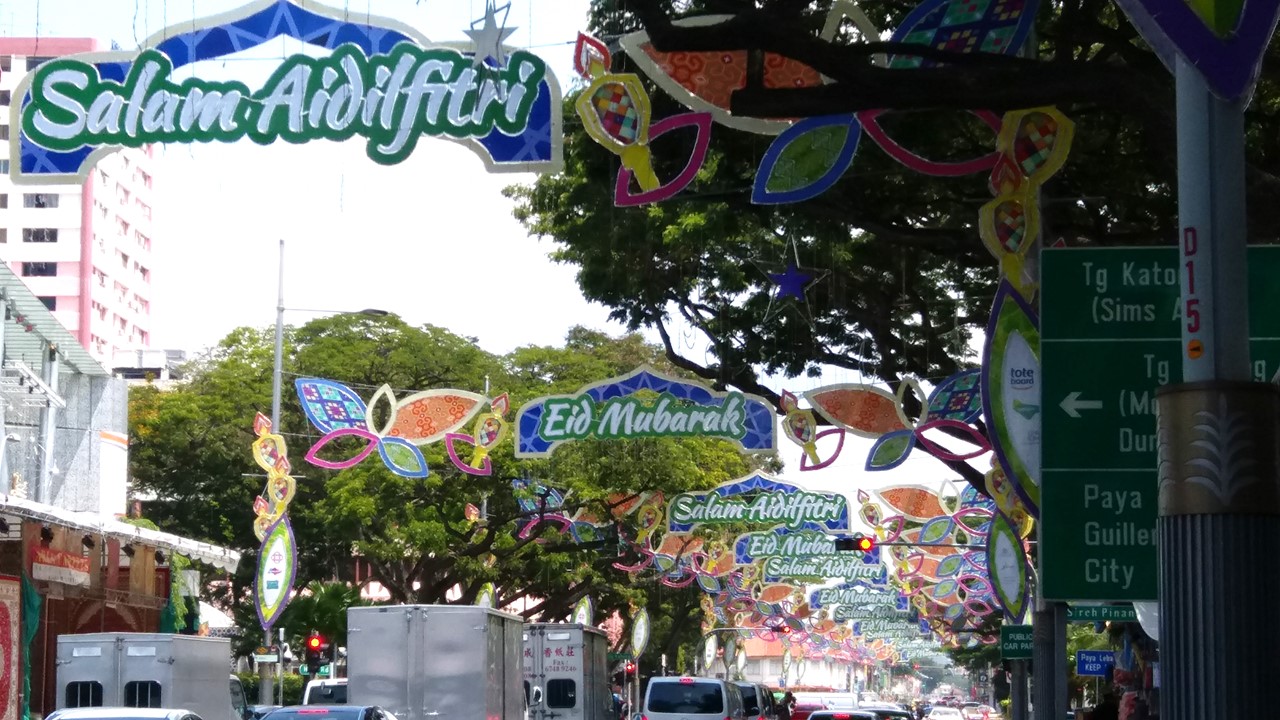 A stretch of Geylang which is festively decorated to welcome Hari Raya Puasa.
THEEMITHI (FIRE WALKING) FESTIVAL & DEEPAVALI
The Festival of Lights, as what Deepavali is also known as, is a celebration to mark the triumph of good over evil. It is celebrated on the 15th day of Kartika (October/November) in the Hindu calendar. Homes belonging to a Hindu family will be brightly lit as they perform their prayers and exchange gifts.
Just like the weeks preceding Hari Raya Puasa, expect a bazaar of rich fabrics and aromatic spices in the ethnic quarter of Little India. The stunning light installations depicting elephants and/or peacocks are so Instagram-worthy that it adds to the festive atmosphere of the area.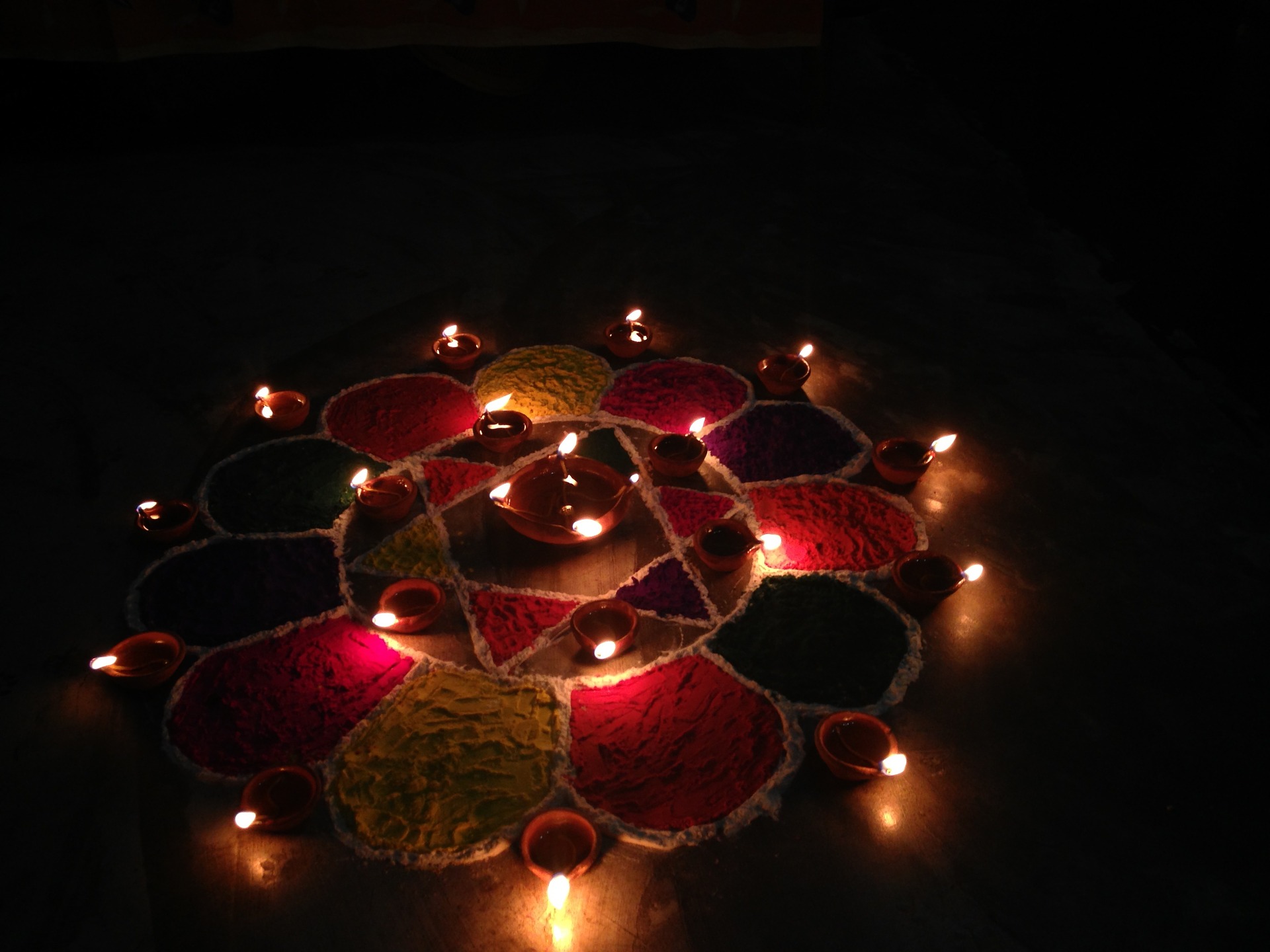 Look out for colourful rangolis, which are created of flour and rice, when you visit a Hindu home or company. Picture credit : wpcares (Sami Khanal/Pixabay).
Theemithi, a religious rite performed as a culmination of a few religious rituals carried out in a stretch of two and a half month, is celebrated on the Sunday before Deepavali. It is held at the biggest and oldest Hindu temple in Singapore, the Sri Mariamman Temple. Devotees walk across a fire pit measuring approximately three metres in length, and then cool their feet in a pool of cow's milk at the end of the walk, in exchange for a wish or blessing.
CHRISTMAS AND NEW YEAR
Everyone's favourite celebration is of course Christmas. With fairy-tale lights strung along the whole stretch of Orchard Road and magical scenes decorating the hotels and shopping centres, the festive atmosphere adds on to the celebratory mood and joyfulness.
The streets are lit-up more than one month in advance and Christmas songs will start playing at shopping centres offering fabulous discounts on your cocktail dresses and Christmas gifts.
The Christmas celebration stretches all the way into parties held in various locations to welcome the new year.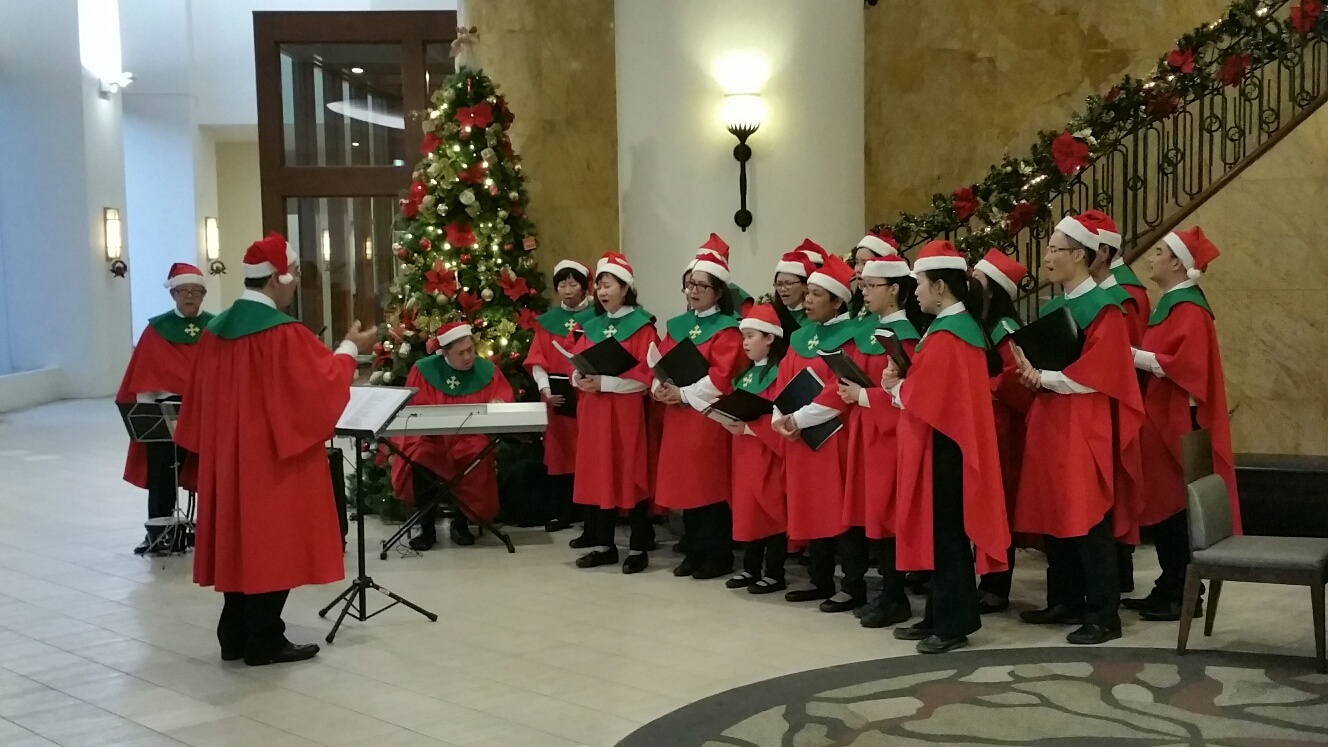 Christmas caroling at Great World Serviced Apartment's lobby.