Part 1: An Introduction to Serviced Apartments
Singapore is a bustling and cosmopolitan city, with a constant influx of expats from abroad coming to work here. Many of them have long-term contracts in Singapore, necessitating them to have their families move with them to Singapore for the duration of their work. 
However, with the growing mobility of staff in MNCs, expats often find themselves posted to various countries in the ASEAN region over a shorter duration, making accommodation a trickier affair as they constantly move and settle in a new country. This is where affordable serviced apartments in Singapore play an essential role for them, helping them to save money while living in comfort.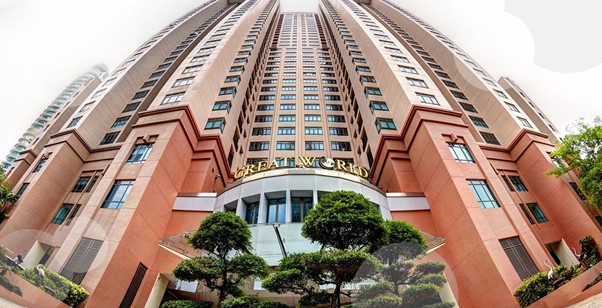 What are serviced apartments in Singapore? They are fully-furnished apartments that offer both the option for short-term and long-term stays, as well as various amenities such as a well-equipped kitchen as well as housekeeping and quality-of-life options. They are set apart from other alternatives such as hostels and regular rental housing, by the fact that they come already fully-furnished and offer better flexibility for rent.
The closest analogue to a serviced apartment in Singapore would be hotel suites in apartment hotels. They offer a similar flexible arrangement of rent, as well as offering housekeeping too. However, apartment hotels charge higher rates and offer far less living space as compared to a serviced apartment, making serviced apartments the clear choice for a medium-length stay in Singapore.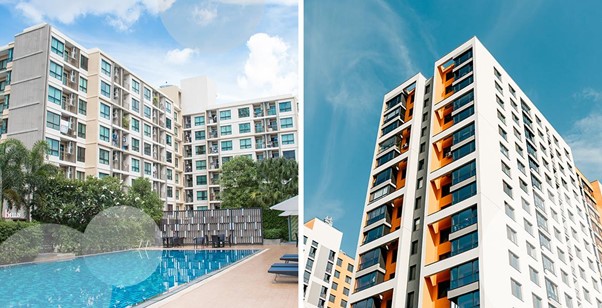 Another major benefit that serviced apartments have over apartment hotels is being a 'home away from home'. Being fully-equipped, serviced apartments offer proper kitchen facilities to prepare your home-cooked meals, a dedicated space for laundry that removes the need to use outside laundromats, and a cosy living room that you can host friends and guests for gatherings and parties. 
Serviced apartments also offer greater flexibility for visits, without the fixed visiting hours that visitors to hotels would have, allowing for longer meetups and gatherings that help to strengthen bonds and relationships. Some are also pet-friendly apartments in Singapore, helping to improve mental and physical health of tenants as well.
In addition to expats, serviced apartments also address the needs of other groups as well. With a rental period starting from as short as 1 week, they are ideal for Singaporean families seeking a comfortable place to stay while waiting to move to another house, or for extensive home renovations to be complete. Short-term leisure visitors will also find serviced apartments appealing, especially those travelling with families who prefer to stay in one apartment with 2 or 3 bedrooms with a fully-equipped kitchen, along with the convenience of having a washer/dryer machine in the apartment. They are also ideal for long-term visitors to Singapore, such as high-flying business professionals deployed to the ASEAN region, and who benefit from luxury apartments in Singapore to unwind after a hard day's work.
Serviced apartments in Singapore come in a variety of sizes, ranging from single-bedroom to 4-bedroom apartments, as well as having the option for penthouse apartments. Combining the best of both flexibility and features, it is little wonder that they are a growing alternative for renting in Singapore. Read on to learn more about choosing the right serviced apartment for your needs. 
Part 2: What To Consider When Choosing A Serviced Apartment
Choosing the best serviced apartments in Singapore can be a challenging affair for first-time tenants, with numerous factors to consider. Here are some criteria to consider to help you make a better decision before you commit.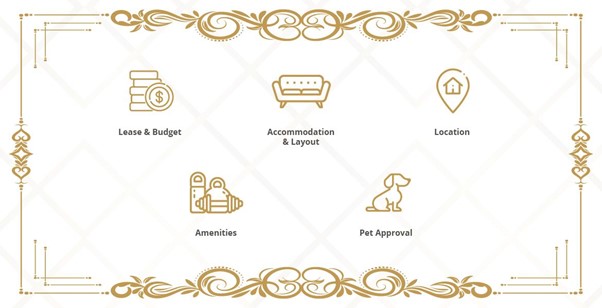 2.1
Lease & Budget
The utmost concern on most tenants' minds is the consideration of both rental costs and the duration of stay. This is particularly important for those who may find themselves expected to leave Singapore at a moment's notice to work elsewhere, and hence the longer lease periods that are a minimum of 1 year would be a significant loss of money to them. This is where serviced apartments shine, offering budget short-term accommodation in Singapore, starting from a minimum of 1 week's duration of stay. 
In addition, most operators of serviced apartments offer lucrative benefits and lower rates for longer tenants, ranging from discounts at various participating outlets, to referral points and discounted rental rates. This gives tenants a greater incentive to continue long-term accommodation in Singapore with them, as they return to Singapore every so often to resume their job posting or work. It also lowers the overall cost of rent, with cashback and discounts helping to reduce costs of dining out and leisure.
Tenants should note that various serviced apartment operators differ in minimum occupancy period, as well as the rates that they offer for various periods, such as a 6-month stay and a 1-year stay. It is recommended to shortlist the ones most suited to your budget, before contacting them for a detailed breakdown of costs for your desired duration of stay.
Also, it is important to take note of the various occupancy fees that serviced apartments in Singapore have, as well as potential added costs arising from miscellaneous charges. Occupancy fees usually include WiFi coverage, parking space, general utilities as well as housekeeping services, although this varies by operator. Miscellaneous charges include laundry, newspaper subscriptions, and telephone charges.
Each operator will have different fees and costs, so it is important to know what they are before committing to one. You can find out more from the FAQ pages of their websites.
2.2
Accommodation & Layout
Another key concern for prospective tenants is the accommodation and layout of serviced apartments in Singapore. As mentioned earlier, they range from single-bedroom to 4-bedroom options; catering to solo travellers, couples, as well as multi-generational families.This makes it easy for tenants to find what they are looking for based on their needs without spending more than required; be it a smaller apartment for a couple living together, or a larger apartment with a dedicated bedroom for children in larger families. 
In addition, many operators spare no expense in ensuring their luxury apartments in Singapore are tasteful and stylish. They come in a variety of layouts, from a more homely, rustic feel to create a sense of comfort and restfulness; to modern chic and sleek furnishings that complement the vibes of an ambitious corporate leader of a MNC. This helps the serviced apartment to appear less as temporary lodging and more of a 'home away from home', ensuring a more pleasant and relaxed stay.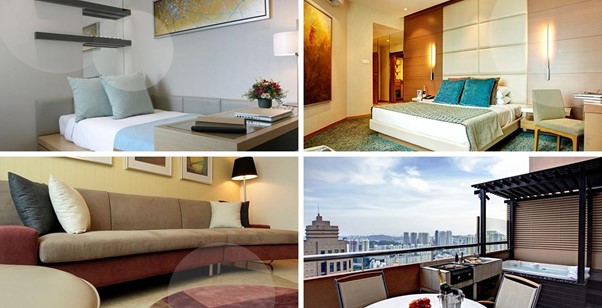 When choosing a serviced apartment in Singapore, do spend time reading up on the general specifications, such as the surface area, number and sizes of beds, as well as general amenities such as bathrooms, kitchen and living/dining/study areas. If you are already in Singapore, try to ask for a physical tour of the apartment in question, or request for photos or a virtual tour of the apartment instead.
Also, do check with the serviced apartment operators as to the degree of customisation you are allowed to do, such as bringing in small pieces of decoration and furniture, or being allowed to put up paintings and decorations. Usually, serviced apartment operators will frown upon moving heavy furniture, as well as drilling and hammering works that may leave a lasting impact on walls.
2.3
Location
Another key selling point of the best serviced apartments in Singapore is their proximity to various key hubs of activity, be it nightlife and retail malls, or closer access to public transport or the CBD area. Serviced apartments can be found across all of Singapore from Bukit Timah to Clarke Quay, making prospective tenants spoilt for choice when choosing an ideal place to stay.
A good location goes a long way to satisfying tenants' needs, be it for short-term accommodation in Singapore or long-term accommodation. These needs can range from significant savings through the convenience of an adjoining mall, complimentary shuttle services to the CBD or places of interest, accessible MRT stations, leisurely and therapeutic walks at a nearby nature reserve, or kicking back and celebrating the weekend with good company at a nearby restaurant or pub.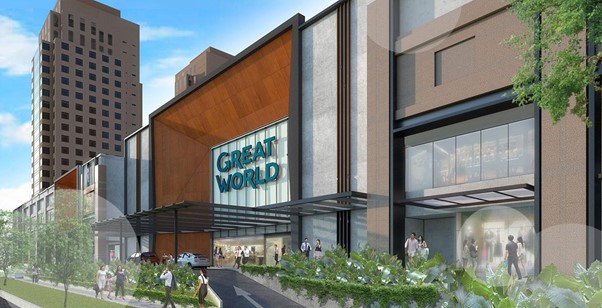 When choosing a serviced apartment in Singapore, it is important to consider both your individual needs and that of the people with you. For example, younger couples might prefer to live near a place with an active nightlife scene, while families with younger children might prefer a location with more privacy and seclusion to protect and nurture them. Other families might prefer a location closer to friends for weekly potluck and dining plans, or being situated near to an international school that their children attend.
Ultimately, it helps to hear out everyone who will be living together at your serviced apartment before making a decision and achieving the best compromise possible to meet everyone's own needs and preferences.
2.4
Amenities
Luxury serviced apartments in Singapore would not be complete without a dizzying array of facilities that tenants can enjoy at their leisure. This ranges from well-equipped gymnasiums to help you work out without travelling out, Olympic-sized swimming pools with additional wading pools for children, as well as barbeque pits to host guests for a relaxed get-together. Other features include indoor and outdoor playgrounds for both kids and parents to interact with one another, as well as tennis and basketball courts for ball games.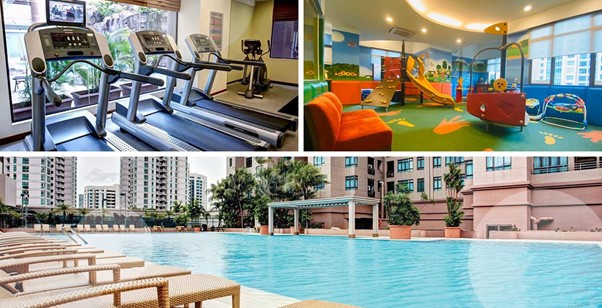 Other understated but important amenities include access to a business centre, which provides services such as faxing, mailing, scanning and photocopying hardcopy documents, as well as Internet access. This is particularly valuable for tenants who are freelancers, or find themselves working from home for extended periods.
As always, considering both individual needs and that of one's family is key. Parents with young children will prefer serviced apartments in Singapore that feature kid-friendly features, such as kid pools and playgrounds. Alternatively, couples who are working in the corporate sector may prefer a fully-equipped gym and proper pool facilities, helping them to stay fit while saving precious time without the need to travel to public gyms or pools.
Do take note of additional fees that may be incurred as part of monthly maintenance fees for these amenities too. While some serviced apartment operators may include it under the monthly rental payment, other operators may charge them as miscellaneous fees, increasing the total amount paid each month.
2.5
Pet Approval
With long-term accommodation in Singapore, it is natural that both overseas expats and local Singaporean families would like to bring over their pets for company. Ask any family with pets and they would tell you that their pets are cherished members of their household. Sadly, many rental places in Singapore are not pet-friendly apartments, and consequently many of them are forced to either have their pets taken care of by friends or family, or in worst cases put up for adoption.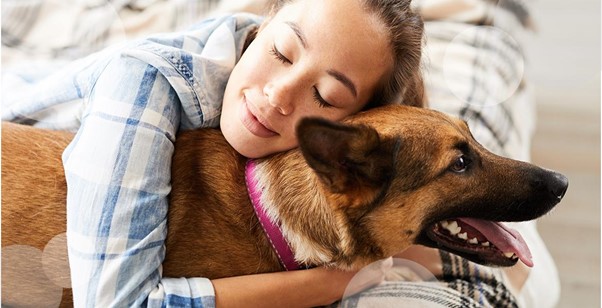 Studies have shown that pets bring a significant amount of benefits to any household, ranging from reduced risk of depression, lower blood pressure, as well as increasing the natural release of serotonin and dopamine to help people calm down and relax. Great World Serviced Apartments is proud to be one of the few operators of pet-friendly apartments in Singapore, knowing how important pets are to the tenants. 
If bringing your pet to stay with you is an essential criteria, then it is important to find a serviced apartment operator that allows you to do so. Do note that a pet levy will be applied for tenants with pets, as well as adhering to Singapore regulations on which pets are allowed to be brought into Singapore. You will also need to arrange for an import license, getting your pet vaccinated and quarantined if required, as well as an endorsement with a health certificate, amongst other criteria.
Smaller pets, such as hamsters and rabbits, will require less stringent criteria and are equally approved in our pet-friendly Singapore apartments. Visit the Animal & Veterinary Service website for a full breakdown of rules and regulations for bringing any pet into Singapore.
Part 3: A Wide Variety of Serviced Apartments
Now that you know more about the advantages of serviced apartments in Singapore, along with what to look out for, here's an in-depth look at the variety of apartment options available. Great World Serviced Apartments offers tenants the option of either regular or penthouse apartments, starting with single-bedroom options and increasing in size up to 4-bedroom options. Read on to learn the detailed breakdown of each of our apartments.
3.1
One Bedroom
Perfect for solo travellers or couples preferring a cosy space, Great World Serviced Apartments' One Bedroom Premier Apartment offers a spacious 800 square feet for living, and comes with a single king-sized bed for the utmost in quality sleep and rest. It features a layout that combines the timeless look of wood with pleasant light colours, giving off a modern vibe that's perfect for younger tenants and rising corporate executives.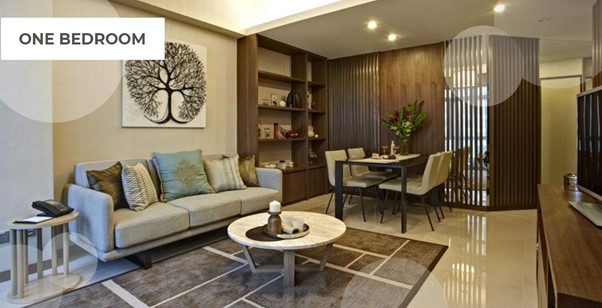 Even though the Premier Apartment is our most budget-friendly and starter option, it still comes with a slew of amenities, just like our larger apartment options. It features separate living, dining, kitchen and study areas; to a full-sized bathroom with separate shower and bathtub fixtures. As a luxury apartment in Singapore; it comes with its own home theatre system, TVs in both the living and bedroom with a wide array of cable channels,  as well as a Nespresso coffee machine for unwinding.
Other general features include a fully-equipped kitchen with microwave oven, cooker hood/hob, a separate washer/dryer, and connectivity such as cordless telephones and WiFi access. Like all of our serviced apartments in Singapore, the Premier Apartment offers housekeeping services twice a week that includes linen and towel change service, excluding Sundays and Public Holidays.
3.2
Two Bedroom
An ideal balance of cost and space, our 2 bedroom serviced apartments in Singapore are a popular choice with our tenants. Our range of apartments begin with the Deluxe Apartment, moving up to the Grand Apartment and our Grand Terrace Apartment, making them perfectly suited to couples with a child, or travellers seeking both short and long-term accommodation in Singapore.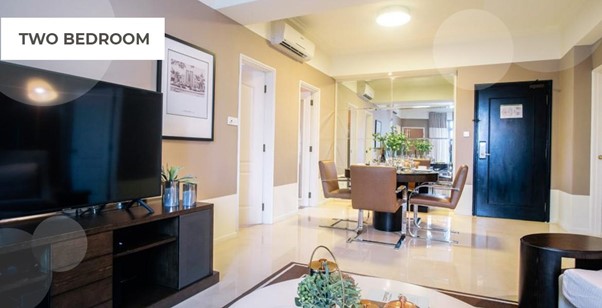 At 1000 square feet, our Deluxe Apartment comes with both a king-sized bed and a super single bed. It offers a homely layout with use of hardwoods and lush carpets, making it ideal for accommodating up to 3 tenants in elegant simplicity. It also comes with two full-sized bathrooms, along with our amenities such as a fully-equipped kitchen, home theatre system, space for laundry, as well as housekeeping services twice a week. A rollaway bed is also available upon request for tenants hosting friends for a night or two.
Our Grand Apartment takes this a step further, replacing the super single bed with a double bed for a maximum of up to 4 tenants per apartment. With added bedroom space while still featuring the same amenities as our Deluxe Apartment, the Grand Apartment is a perfect choice for an affordable service apartment in Singapore, ideal for couples with multiple children, or two couples sharing a homely space.
Finally, our Grand Terrace Apartment comes with an outdoor terrace for tenants seeking to enjoy the cool night breeze. At 1100 square feet, it has the same bed setup as the Grand Apartment, a spacious dining room for both family meals and hosting guests, along with the same amenities as the rest of our luxury apartments in Singapore. 
For the discerning tenant seeking a home with a view, our Penthouse Apartment offers a gorgeous view of the city below, while designed in a classy and chic manner. It comes with an outdoor terrace for barbeques and alfresco dining, a king-sized and double bed for up to 4 tenants, as well as separate shower and bathtub fixtures in ensuite bathrooms. In addition, it also comes with the same features as our other 2 bedroom serviced apartments in Singapore.
3.3
Three Bedroom
For larger families seeking to live in the utmost comfort, our 3 bedroom serviced apartments in Singapore brings the best of both facilities and living space. Our 3 bedroom apartments have the widest range of options, perfect for tenants' wide range of needs and arrangements.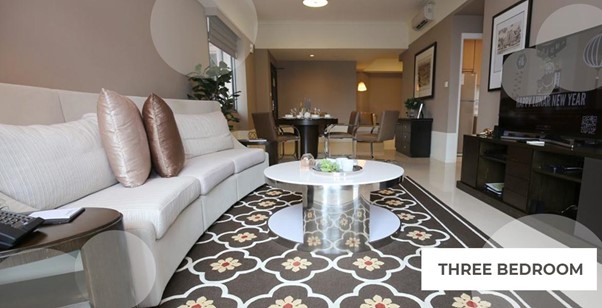 The Deluxe Apartment accommodates up to 5 tenants, offering a king-sized bed and 3 super-single beds, making it the ideal choice for families with children or friends travelling together. It also offers two full-sized, en-suite bathrooms for comfort, along with the option for a rollaway bed to host guests overnight.
Tenants can take their pick of our various luxury apartments in Singapore with our Superior, Grand, and Premier Apartments. They each accommodate up to 6 tenants, and come with an outdoor terrace option to allow for fine dining outdoors and hosting large groups of guests. 
Our Superior Apartments range from 1200 to 1400 square feet; with the regular apartment offering 1 king-sized bed and 4 super-single beds; while the outdoor terrace option offers both a king-sized and queen-sized bed along with two super-single beds. Situated on the lower floors, they offer tasteful and vibrant furnishing, along with our comprehensive suite of amenities.
Ranging from 1200 to 1480 square feet, our Grand Apartments offer a step up in living space, each being furnished with a king-sized bed, a double bed, and two super-single beds. Located on higher floors, they offer a spectacular view of the surrounding areas, as well as two full-sized en suite bathrooms for comfort and our complete range of amenities, making them great for long-term accommodation in Singapore.
With a lavish 1600 to 1700 square feet and equipped with a king-sized bed, a double bed, and 2 super-single beds, Premier Apartments are ideal for tenants who find themselves wanting to work from home in style and comfort, while also having space for family members to each have their own space. They are excellent luxury apartments in Singapore for spending quality time with both friends and family.
Last but not least, our Pinnacle Apartment and Penthouse Apartment are for tenants seeking the ultimate in luxurious living. The Pinnacle Apartment features 1800 square feet and an outdoor terrace, providing a great venue for entertaining guests. The Penthouse Apartment takes it further with 1880 square feet, with an added personal outdoor jacuzzi to relax your muscles as you admire the city at night. The master bedroom also comes with a walk-in wardrobe, allowing you to properly curate and arrange your dressing as you desire.
3.4
Four Bedroom
Our 4 bedroom serviced apartments in Singapore are perfect for multi-generational families desiring to live in luxury and comfort, with both our Pinnacle and Penthouse Apartments accommodating up to 8 tenants. At 2200 square feet, both apartments feature an outdoor terrace, three full-sized bathrooms and a powder room, as well as the full range of amenities that every apartment comes equipped with.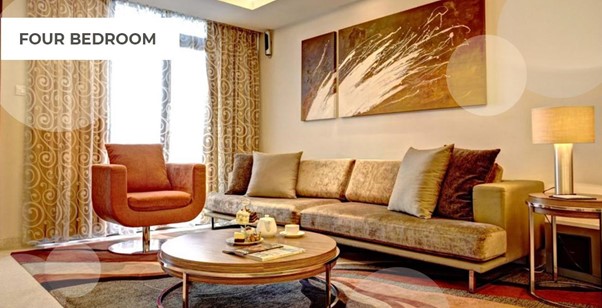 Both apartments feature a king-sized bed, a queen-sized bed, a double bed, and two super-single beds. Similar to the 3 bedroom Penthouse Apartment, the 4 bedroom option also has an outdoor jacuzzi pool, allowing family and visiting friends to enjoy the open air and view from the top floor. It also has a walk-in wardrobe to display and arrange your clothes for greater ease.
Part 4: Conclusion
Serviced apartments in Singapore offer a huge range of perks for a diverse range of tenants. From flexible and short-term accommodation in Singapore, to being fully furnished with stylish and comfortable features, they are an ideal choice for tenants seeking a place to stay in Singapore across all durations of time.
At Great World Serviced Apartments, we also offer extensive residents' privileges and rewards, helping long-term tenants to make the most out of their time staying with us. You can also accumulate points for your stay by being a Shangri-la's Golden Circle member, and use the points for the redemption of hotel stays, F&B vouchers, spa treatments and airline miles globally. Contact us today to find out more about our rates and serviced apartments, and you're on your way to the utmost in luxurious rental living.