Sustainability has become an important part in tourism and travelers are more aware of making travel choices that will save the planet for future generations.
Attitudes have changed among travelers with three out of four travelers attempting to make a change in the way they travel.
Below are some ways to travel responsibly with less impact to the world and to reduce carbon footprint.
Explore Eco-friendly transport options:
Only fly if the trip is more than 3 hours
Choose direct flights where possible
Choose airlines that has better energy efficiency
Pack Light with plans for reuse.
Remove and recycle any packaging from items before you leave, it also helps to cut down the bulk in your luggage
Bring reusable containers, water bottle & shopping bags
Plan for laundry day – lightweight fabric can be left to dry overnight
Stay in a Green Hotel
Leave the "Do Not Disturb" Sign on to save on resources spent cleaning the room if you do not need them especially for stays less than 3 nights.
Re-use your towels and only change them when necessary
Return any used maps or brochures to the front desk so they can be reused
Pretend you are paying the electricity bills and use wisely as if you were home
Great World Serviced Apartments
Great World Serviced Apartments is honored to be the first serviced apartment awarded the BCA Green Mark Platinum Award since 2014. We are constantly thinking of ways to align our property with green efforts, such as having utilities capping for long stay occupants and reducing housekeeping to 2 times per week when the resident can accept the arrangements. Recycling bins are also available in the property to encourage guests to clear their unwanted items in a responsible manner.
We have also done away with notices sent to the apartments and instead rely on sending e-circulars and pasting notices at the common areas. We have also switched our amenities such as shampoo and body wash to an entirely organic and paraben free product, with 100% recyclable bottles. This year, we also launched our green rewards programme where our short stay guests can choose to opt out of housekeeping and receive a $5 shopping mall voucher in return.
Make the green choice today! Book direct with us now and enjoy 30% off*!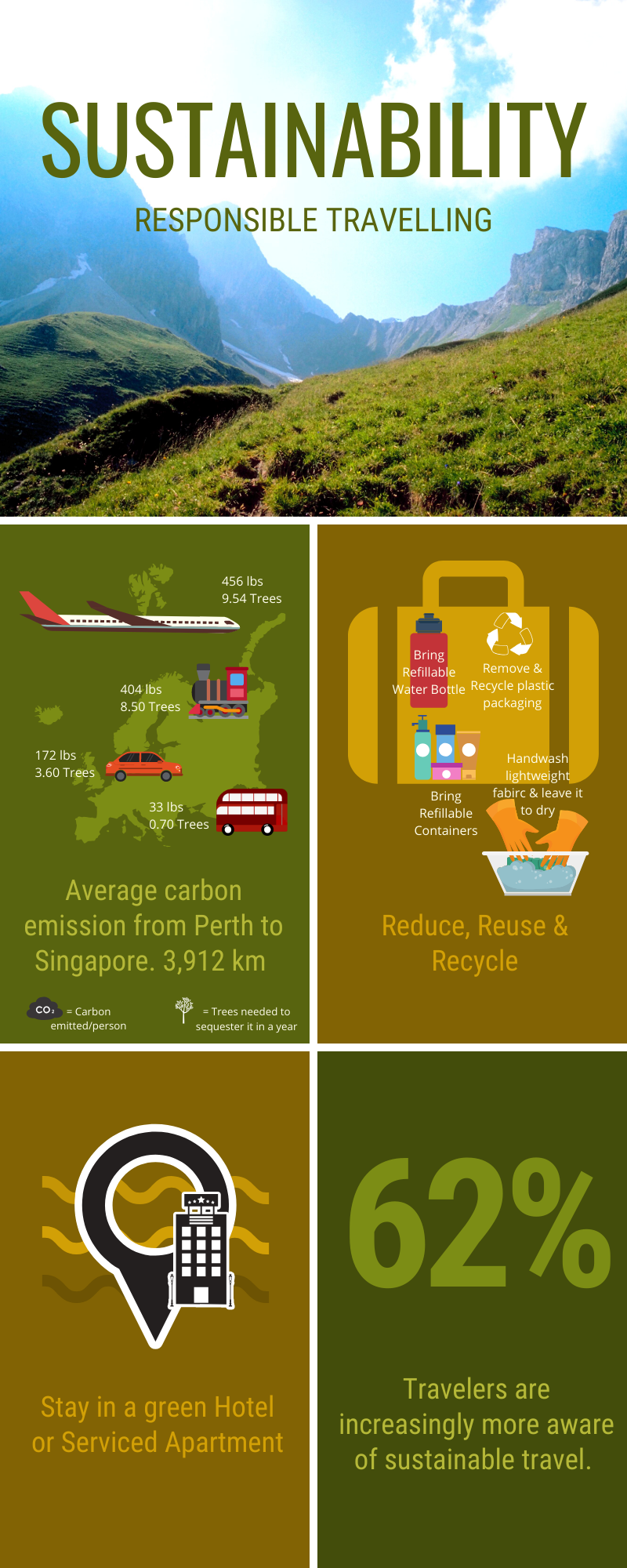 Sources:
https://www.tourwriter.com/travel-software-blog/2019-tourism-stats/
https://www.loveexploring.com/news/88824/5-ways-to-reduce-the-carbon-footprint-of-your-holiday-go-green-eco-travel
https://www.reservations.com/blog/tips-tricks-budgets/carbon-footprint-travel/
*Terms and conditions apply