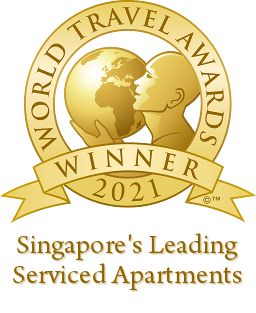 Great World Serviced Apartments is honoured to be named "Singapore's Leading Serviced Apartments" for the second consecutive year at World Travel Awards 2021.
World Travel Awards is the travel industry's most prestigious awards programme. Established in 1993, World Travel Awards acknowledge, reward, and celebrate excellence across all key sectors of the travel, tourism, and hospitality industries. The winners are chosen based on votes by the public and travel professionals worldwide.
"Looking back, this has indeed been a challenging period for all. We are immensely grateful to our customers and business partners who have continued to support us during these exceptional times. This achievement will be shared with our passionate team of staff members and with this endorsement, we will definitely work harder. Thank you once again from all of us at Great World Serviced Apartments Singapore." – Darren Cher, Senior General Manager, Great World Serviced Apartments.
The award-winners are published exclusively on World Travel Awards' website at: https://www.worldtravelawards.com/award-singapores-leading-serviced-apartments-2021