Singapore, a melting pot of different races and culture, prides itself in having her people respect each other and who are able to freely celebrate and practise their beliefs.
In this Part 2 of our write-up on festivals and celebrations, we bring to you the lesser known festivals and celebrations but which are still a very much a part of Singapore.
THAIPUSAM
Thaipusam, a day of prayers and penance, is observed by mainly the south Indians in the Indian month of Thai (January/February) when the moon is full, as well as by countries which has a significant number of Indian communities.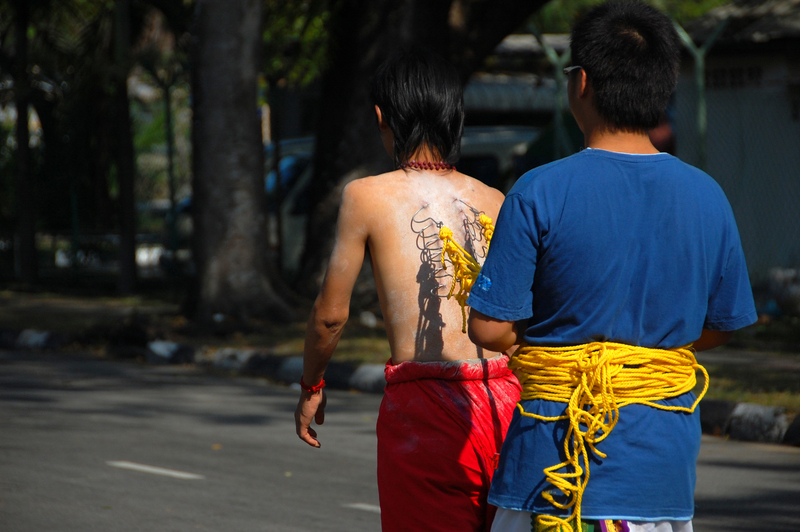 A devotee's back pierced with hooks. Picture credit : Lionel319 (Stock Free Images)
From devotees carrying offerings and ceremonial sacrifices that ranges from a simple act of carrying a pot of milk on their heads to those carrying kavadis, a wooden pole with an arched framework that is adorned with peacock feathers and margosa leaves, devotees walk from Sri Srinivasa Perumal Temple at Serangoon Road to Sri Thendayuthapani Temple at Tank Road. Some of the devotees will have their bodies and tongues pierced. Carrying of the kavadis and the piercings are done as a form of sacrifice, of being thankful or paying penance.
HUNGRY GHOST FESTIVAL
On the seventh month of the lunar calendar, the Chinese believe that the "gates of hell" are open and ghosts are let out to roam around to seek food and entertainment. During this period, you will see joss sticks being lit and hell bank notes burned. You can also see paper houses, cars, mobile phones, and other modern luxuries being burnt to please these ghosts. Some are burnt with the belief that their ancestors can enjoy them in the afterlife.
Offerings for the dearly departed. Hell notes are burnt in containers such as these to be spent in the afterlife.
As a form of entertainment, cultural performances known as Getai, are held in the evening in various neighborhoods. If you are interested to catch one, avoid the first row of seats as these are reserved for the ghosts. It is believed that bad luck and misfortune will befall you if you sit in these seats.
MID-AUTUMN FESTIVAL
The Mid-Autumn Festival is a harvest festival celebrated on the 15th day of the eighth month of the lunar calendar when there is a full moon. It is also fondly known as the Mooncake or Lantern Festival due to the festivities surrounding the celebration of the end of the harvest period.
Families and friends gather together, drinking tea and eating mooncakes, which legend has it, it was used to pass on secret messages during the Han's uprising against the Mongols.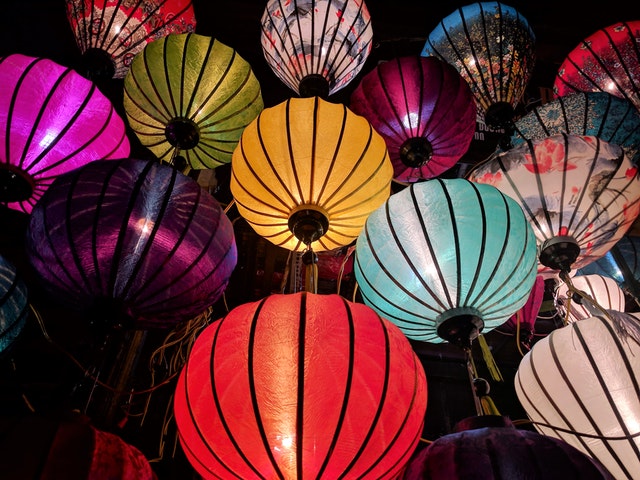 The lanterns of yesteryears have evolved to beautiful, colourful bold ones. Picture credit : Expect Best (Pexels)
This festival is also a favourite for small children as they tote around the neighbourhood with their traditional paper lanterns lit by a single candle. Of course, manufacturers are getting more creative nowadays with modern lanterns made of plastic in the shape of popular cartoon characters, which though safer, are unfortunately operated by batteries.
KUSU ISLAND PILGRIMAGE
Kusu Island, or Tortoise Island in Chinese, a small island about one hour journey from the mainland by ferry, is host to what is known as sacred sites which draws droves of believers during the Kusu pilgrimage season in the ninth month (October/November) of the lunar calendar. One version of the legend has it that a tortoise changed itself into an island to save a Chinese and a Malay man from drowning. In return for saving them, the men each built a shrine on the island.
Devotees pray for wealth, good health and good marriage, among other things at these two shrines. Thousands of devotees throng the island in hopes of peace and prosperity during this period.
Kusu Island can be reached via ferry from the Marina South Pier.
"IMPORTED" FESTIVAL/CELEBRATION
Singapore's unique blend of culture is further enhanced with the myriad of residents from all over the world, calling Singapore home. They bring with them their own culture and celebrations, adding to Singapore's colourful canvas of festivals.
ST. PATRICK'S DAY
Organised by Singapore River One, the first St. Patrick's Day Street Festival was held in 2006. Held over a weekend in March, participants dress up in their best green and celebrates the achievements of the Irish people all over the world and basically, everything Irish.
There are live music, Irish cultural performances and activities for the whole family held along the Singapore River at Boat Quay.
OKTOBERFEST
Oktoberfest comes to Singapore! Picture credit : rawpixels.com (Stock Snap)
Originating from South Germany, Oktoberfest Asia, claimed to be the most authentic event in Asia, is held in, well, October. Last held in an air-conditioned marquee near Bugis Junction, Oktoberfest Asia boasts authentic German beers, band and food. With decorations and atmosphere just like the original festival, you wouldn't even know you are in Singapore!