Serviced apartments are fully furnished apartments available for both short term and long term rentals. These apartments offer a slew of benefits and can be rented by business travellers, expatriates, or tourists. Besides serving as a residential choice for residents of the country, serviced apartments are also often a preferred accommodation option compared to hotels. Read on to find out why.
Variety of Apartments


Serviced apartments, like HDB flats and private condominium apartments, offer accommodation with different numbers of rooms. Choose to

rent

a

1-bedroom apartment

for yourself or a

2-

to

4-bedroom serviced apartment

for a home away from home

. Some establishments even provide

suites

for a more luxurious stay. 

Whether you're a tourist on a vacation or a business trip, or a Singaporean looking for a new place to stay, being presented with a variety of apartment size options for both long term and

short term accommodation

is never a bad thing
Larger Living Space


With the fully functional kitchen and fully-equipped apartments, you get proper, large living spaces with separate sleep, living, and dining areas. Compared to smaller hotel rooms, or empty apartment units you find in the market, these spaces allow you to immediately settle in and get on with your busy schedules. 
Value for Money


The

price

of

booking

a

serviced apartment

in

Singapore

for a larger group

is typically

more cost-effective

compared to

booking multiple rooms in

hotels, especially for short term stays

(less than three months)

.

A typical hotel size is also 247 Sq Ft while typical 1 bedroom serviced apartments have sizes that range between 400 Sq Ft and 800 Sq Ft, which may be more comfortable for some travellers.

The amenities and services provided as part of your stay is also a lot more value for money than renting a place long term. 

For example,

if you are looking for accommodation for business travellers or for friends on a holiday, booking an entire

3 bedroom serviced apartment

to accommodate everyone

may save you more money

than booking separate hotel rooms or a hotel suite. 
Extensive Services


Most apartments provide periodical housekeeping services that can help ensure your apartment's cleanliness. Residents on business trips may also tap on

concierge services

for printing and mailing when necessary. 

Some

serviced apartments

even provide child friendly facilities and can provide nanny services upon request to help you care for your child when you need some time off

or out on a date night

. Furthermore, the security in

serviced apartments

will undoubtedly help keep your home and loved ones safe.
Amenities and Facilities


As mentioned, serviced apartments are fully-furnished apartments that are ready for move-in. Everything you need in a home, from furniture to kitchen appliances, is included in

the apartment. Travellers can rest in a comfortable and familiar place after visiting the country and  even cook healthier meals themselves. This is something that you can't get in regular hotel rooms.

In addition, as a resident, you will have access to a variety of other amenities such as gyms, swimming pools, meeting rooms,

kids

facilities, and lounge areas.

Some serviced apartments, like Great World Serviced Apartments, are also pet-friendly,

so you can even bring your pets along.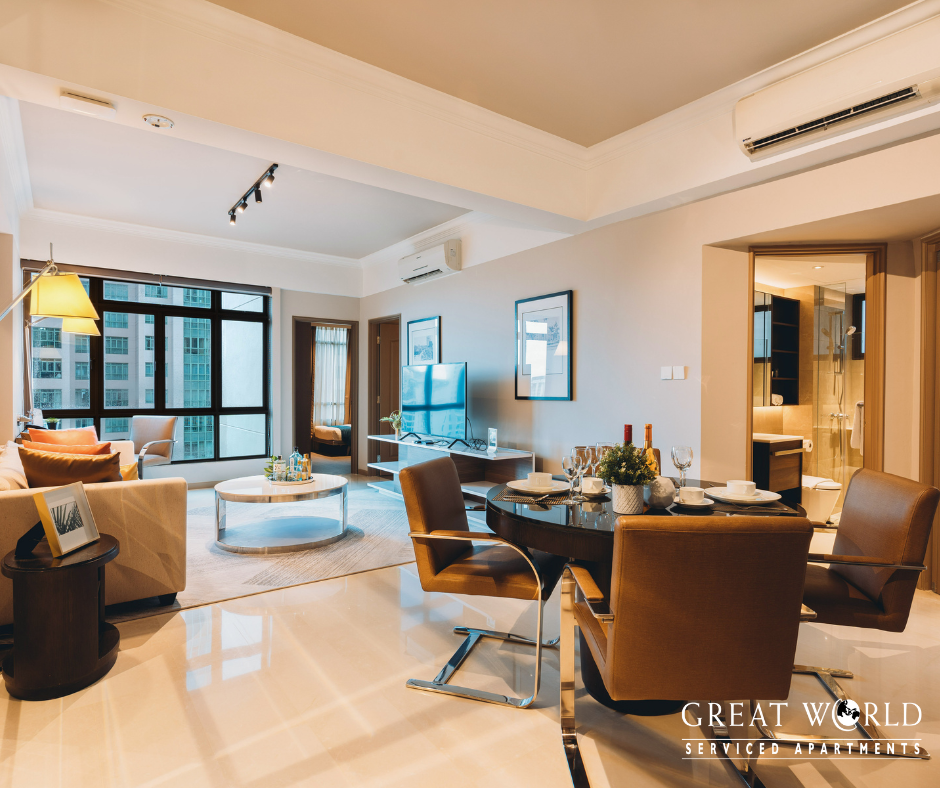 Great World Serviced Apartments, located just minutes away from Orchard Road and the Central Business District in Singapore, offers 304 fully furnished apartments suitable for a variety of group sizes. Enjoy up to 35% off our best flexible rates when you book with us today.