Ryan's Kitchen - 10% off Daily & 30% off Weekdays 2pm to 5pm
Ryan's Kitchen in Great World is the first café by premium alternative gourmet grocer — Ryan's Grocery. A one-stop-shop for organic and gluten-free, allergen, and preservative-free specialty foods. The cosy Australian-style cafe offers a delightful menu prepared with quality produce and products that may also be purchased at the grocery and butcher next-door.
There's something for everyone; from breakfast meals to burgers and pastas, Ryan's Kitchen is the best place to relax with friends and family. Their Pick-and-Grill option encourages to select their preferred fresh meat cuts at Ryan's Grocery's butchery to be grilled at the restaurant for a nominal fee. Treat yourself to the best cuts of meat, and house-made premium sausages. They also have a wide selection of gluten free, vegan and vegetarian options on their menu.
Residents are entitled to:
10% off our À la Carte Menu Daily or,
30% off our À la Carte Menu on Weekdays 2pm to 5pm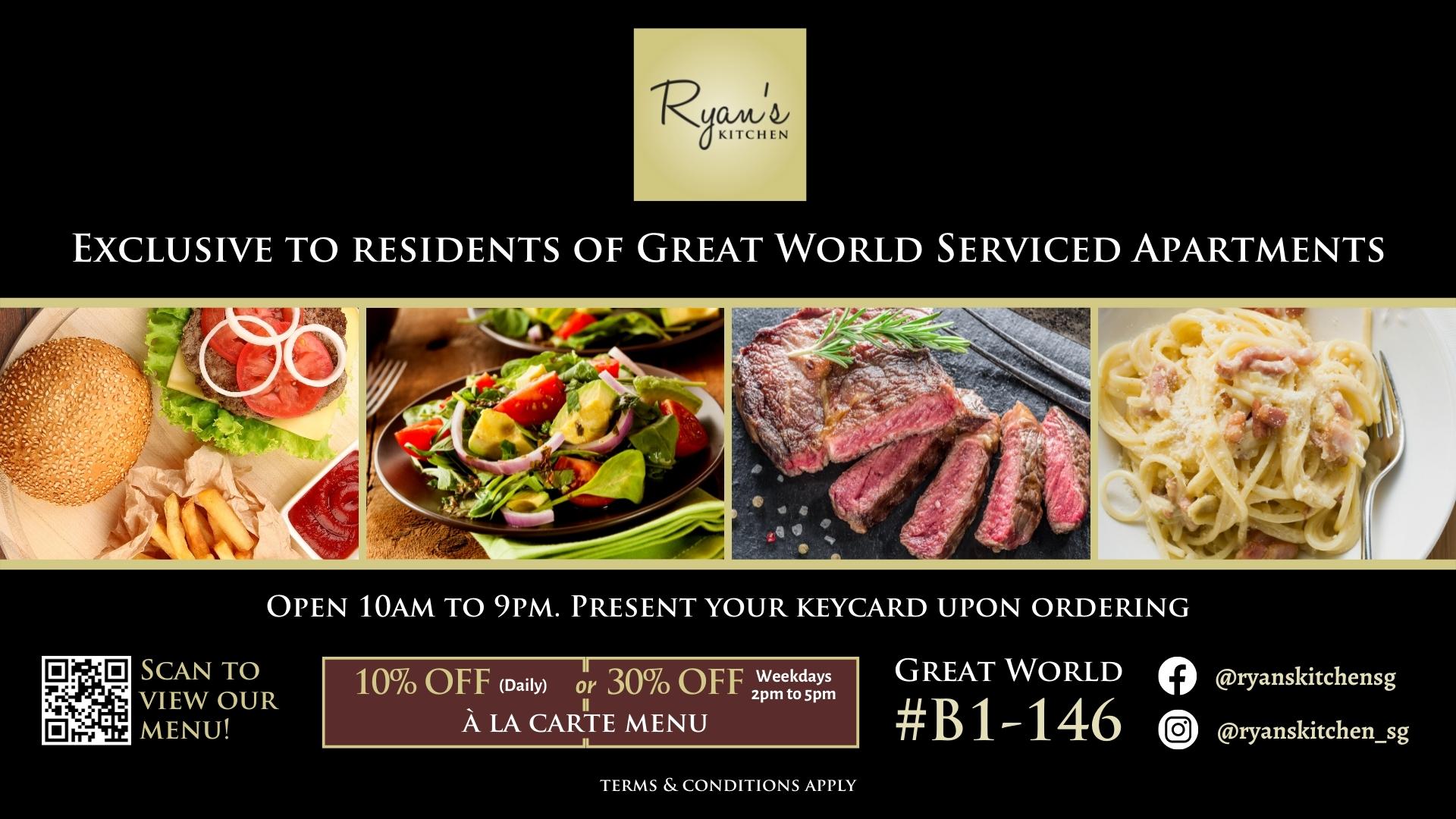 Terms & Conditions:
Privilege is valid from 26 September 2022 to 25 September 2023
Privilege is only valid on items in the À la Carte Menu
Privilege is not valid in conjunction with any items already with existing discounts, on the Specials Menu, and use with discount vouchers
Not valid in conjunction with 3rd party partnerships' privileges
The actual Great World Serviced Apartments Resident active keycard must be presented when ordering to enjoy the dining privilege, both the new and old versions of the keycard will be honored.