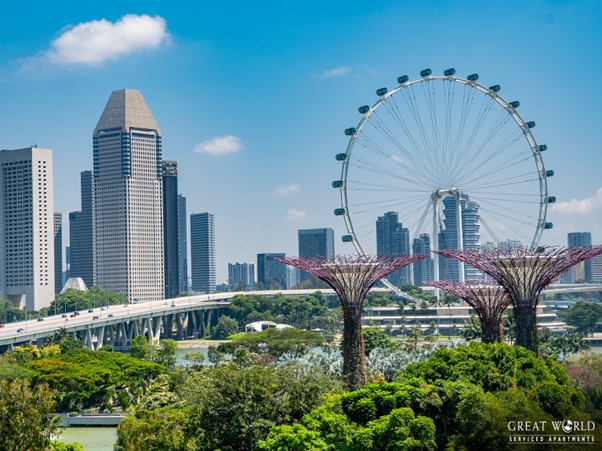 Singapore is a wealthy city-state in Southeast Asia with one of the world's best business economies and our education system is one of the best in the world, not just in Southeast Asia. Moreover, Singapore's convenient location on the world map, warm climate, and the safety of our city make this country popular among expatriates from all over the world.
If you are planning to move to Singapore in the near future, this guide will provide an insight to our culture and housing options, with useful tips on renting a place to stay.
ABOUT SINGAPORE
1.1. Nationality & Culture
Situated off the southern tip of the Malay Peninsula, Singapore has a population of over 5 million people, made up of people from four ethnic groups, namely Chinese, Malay, Indian, and Eurasian. Singapore's rich culture today is the result of each ethnic group's contribution as each community offers a unique perspective of life, adding its own touch to our culture, religion, food, language, and history. 
Singapore was once a thriving trading port, serving as a crossroads for trade between the East and West in the nineteenth century. The culture and way of life in Singapore today was also heavily influenced by the British when Singapore was under British colonial rule between the years 1826 and 1963. Singapore is one of the most Westernised countries in Asia, owing to the influence of its past British governance. Lifestyles are relatively cosmopolitan, and English is the most widely spoken language across all ethnicities.
Although English is the official language, citizens and permanent residents primarily communicate in Singlish, a local creole language. It is a distinct heritage of Singapore, with conversations often combining English with vocabulary and grammar influenced by Malay, Tamil, Chinese dialects such as Hokkien, Cantonese and Teochew, as well as other languages in the region.
1.2. Climate & Weather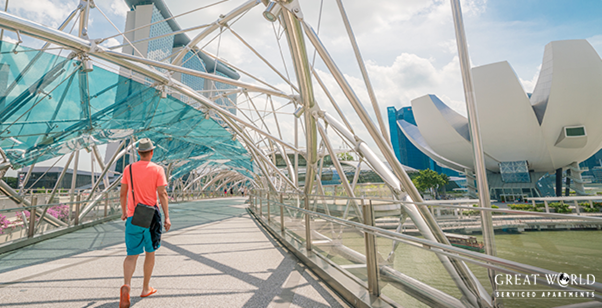 Situated just 1 degree north of the Equator, Singapore has a tropical climate with plenty of rainfall, high and consistent temperatures, and high humidity all year round. The island does not have clear-cut seasons like temperate countries, and many of its climate variables, such as temperature and humidity, do not vary significantly from month to month.
There are also no distinct wet or dry seasons in Singapore and rain can fall at any time of the year, every month. There are, however, two main monsoon seasons separated by inter-monsoonal periods. The Northeast Monsoon occurs between December and early March, and the Southwest Monsoon occurs between June and September. Rainfall is plentiful, with an average of 167 days of rain per year, with much of it heavy and accompanied by thunder.
Temperatures in Singapore vary little from month to month, as well as from day to day. The daily temperature typically does not fall below 23-25ºC during the night or rise above 31-33ºC during the day. Aside from the tropical heat, you will have to battle with the high levels of humidity in Singapore. Humidity levels can reach 100% on rainy days and drop to around 60% on hot and dry days. According to reports by the National Environment Agency, the average relative humidity level is 84.2%.
This tropical climate in Singapore allows you indulge in outdoor activities at our parks throughout the year and it also promotes the healthy growth of our natural landscape, which is why Singapore is also known as a Garden City, with nearly half of our main island covered with trees and other plants.  Aside from the fact that nature covers a large portion of Singapore's land, the city-state is also a thriving metropolis with some of the world's best infrastructure, transportation network and business environment.
1.3. Districts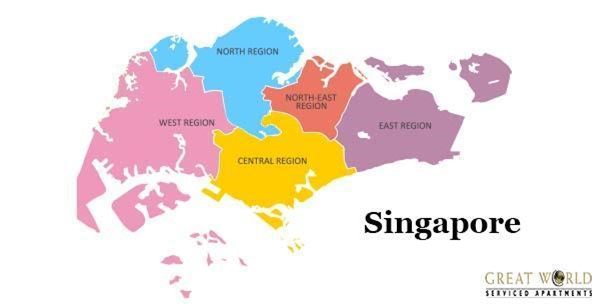 Our small city-state is categorised into five different regions: North, North-East, East, West and Central. It is also divided into 28 districts according to the old postal code system. Though this system is no longer in use, property agents continue to utilise these numbers to refer to the location of properties. With the list of districts, you can conduct your own research to find out where to live in Singapore.
With the Mass Rapid Transit system (MRT), travelling from one end of Singapore to another will take at most two hours. There are also schools, hospitals, offices, malls, etc. in every residential district so you don't have to worry about moving into an apartment that is isolated from amenities.
| | |
| --- | --- |
| District 1: Raffles Place, Cecil, Marina, People's Park | District 2: Anson, Tanjong Pagar |
| District 3: Queenstown, Tiong Bahru | District 4: Telok Blangah, Harbourfront |
| District 5:  Pasir Panjang, Hong Leong Garden, Clementi New Town | District 6: High Street, Beach Road |
| District 7: Middle Road, Golden Mile | District 8: Little India |
| District 9: Orchard, Cairnhill, River Valley | District 10: Ardmore, Bukit Timah, Holland Road, Tanglin |
| District 11: Watten Estate, Novena, Thomson | District 12: Balestier, Toa Payoh, Serangoon |
| District 13: Macpherson, Braddell | District 14: Geylang, Eunos |
| District 15: Katong, Joo Chiat, Amber Road | District 16: Bedok, Upper East Coast, Eastwood, Kew Drive |
| District 17: Loyang, Changi | District 18: Tampines, Pasir Ris |
| District 19: Serangoon Garden, Hougang, Punggol | District 20: Bishan, Ang Mo Kio |
| District 21: Upper Bukit Timah, Clementi Park, Ulu Pandan | District 22: Jurong |
| District 23: Hillview, Dairy Farm, Bukit Panjang, Choa Chu Kang | District 24: Lim Chu Kang, Tengah |
| District 25: Kranji, Woodgrove | District 26: Upper Thomson, Springleaf |
| District 27: Yishun, Sembawang | District 28: Seletar |
1.4. Things To Do
Despite being a relatively small city-state, there are plenty of things to do in Singapore. There are tourist attractions, museums, cultural events and local festivities, UNESCO accredited street food to world-class restaurants offering fine dining experiences, recreation and sports facilities, and parks for a scenic escape on weekends. Here is a list of the most popular places.
Dine
Food courts and hawker centres are your best bets for affordable local food, as they are large food establishments located both indoors and outdoors with smaller food stalls within them. You can usually find a variety of local and international cuisines at less than SGD$10 within one hawker centre. Satay by the Bay, Lau Pa Sat, Maxwell Food Centre, and Newton Food Centre are some of the more popular hawker centres favoured by tourists and expatriates.
Large hawker centres, such as the ones mentioned above, can be found in almost every district, and smaller coffee shops and food courts are also easily accessible wherever you are, so you will never go hungry.
Every shopping mall in Singapore also has a diverse selection of restaurants and cafes serving a variety of food and beverage options to suit different palates. You can easily locate restaurants to eat at by conducting a quick internet search.
Shop
There are over 170 shopping malls in Singapore and the number is steadily growing as more residential estates are being developed.  In addition to malls, there are also shophouses along streets in tourist districts selling novelty items, fashion accessories and other items.
Jewel Changi is the most iconic mall located in the east of Singapore. It is a nature-themed entertainment and retail complex located within Changi Airport that is connected to three of the airport's passenger terminals. The world's tallest indoor waterfall, the Rain Vortex, which is located here, is surrounded by a terraced forest setting. In this family-friendly mall, there are play areas, an exhibition about Changi Airport, an indoor park, as well as retail stores, restaurants, and food kiosks.
ION Orchard and Takashimaya are two of Singapore's most popular shopping malls located along Orchard Road, Singapore's renowned shopping street, which houses some of the world's best luxury brands. These malls also have food courts, restaurants, bars, and other international retail brands.  There are several other malls lining Orchard Road, including 313 Somerset, Orchard Gateway, Paragon, Wisma Atria, and Plaza Singapura.  The malls are within proximity and easily accessible from one to another on foot, by bus or by MRT.
If you wish to live near these malls, consider staying at the many serviced apartments or condominiums nearby Orchard.
Play
For fun and entertainment, you can visit places like iFLY Singapore, Bounce, SuperPark, or Adventure Cove. Those who enjoy sightseeing can check out popular tourist attractions such as Gardens by the Bay, Marina Bay Sands SkyPark, the Southern Islands or Sentosa Beaches. And if you enjoy visiting museums and galleries, you can visit the ArtScience Museum, National Gallery, Ion Art Gallery, or Gillman Barracks.
HOUSING OPTIONS
The most important thing to do when moving to  a new city is to source for accommodation . There is a variety of accommodation choices, whether you are planning to stay for a month or for an extended term stretching several years. Here are some of our available housing options.
2.1. HDB Flats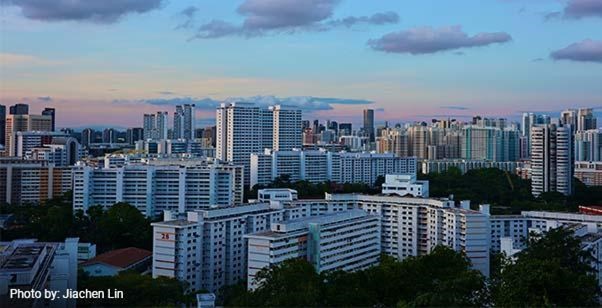 HDB flats are apartments developed by the Housing and Development Board for local residents. The Singapore government built these high-rise properties for use as public housing, and there are strict rules governing the purchase, sale, and rental of these flats. These flats were built to provide locals with affordable housing options, and today, approximately 80% of Singaporeans live in HDB flats.
HDB flats can only be bought by Singaporeans or Permanent Residents (PR). Foreigners are not allowed to purchase HDB flats, and the number of non-citizens who can rent flats in HDB housing blocks is limited. You will be subject to the Non-Citizen Quota for Renting Out a Flat if you are not a Singaporean or a Malaysian citizen. This quota applies to rentals for an entire flat and is in place to help maintain a good ethnic mix in HDB estates. Malaysians are exempted from this quota due to their cultural and historical affinities with Singaporeans.
If the quota is reached, only Singaporeans and Malaysians will be able to rent a flat in that neighbourhood or block. This quota does not apply if you are renting a bedroom.
2.2. Condominiums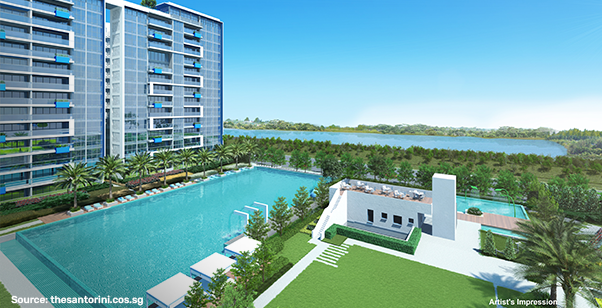 Condos are privately owned apartment buildings developed by real estate companies. Similar to  HDB flats, they come in all shapes and sizes and may be located  in many neighbourhoods across the island. They typically come with extensive amenities such as a pool, gym, tennis court, security, and nicely designed interiors. Condos, however, command a higher rental than HDB.
As with most accommodation in Singapore, older developments are more spacious and airier, with greenery surrounding them, whereas newer developments are smaller, with modern and sleek designs and space-optimised facilities.
Rental prices vary significantly for condos in different locations. The monthly rent for a 1 bedroom apartment away from the city centre can range from above S$2,000 to S$5,000, while a 2 bedroom apartment with a good location and closer to amenities can cost upwards of S$8,000 per month.
2.3. Serviced Apartments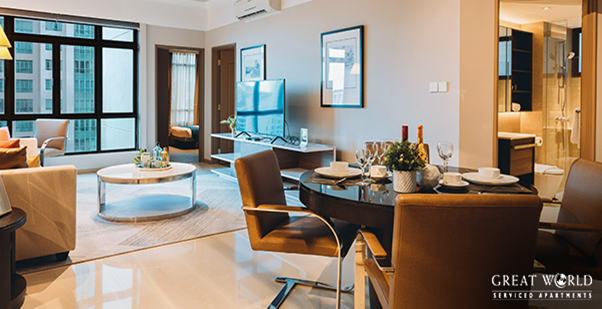 Serviced apartments are fully furnished residential apartments that can be rented for both short-term and long-term stays. They typically offer units much like typical residential flats, with sizes and layouts ranging from 1 to 4 Bedroom apartments. There are also penthouses for those who may prefer exclusivity and can afford a higher budget. Serviced apartments allow residents access to a wide range of amenities and services, including a gym, pool, lounge, as well as child-friendly facilities, housekeeping, and concierge services. They are a hybrid between hotels and condominiums, but serviced apartments also feature a well-equipped kitchen, rendering them move-in ready and suitable for hassle-free extended accommodation.
Another distinction between condos and serviced apartments is that condos are built on land zoned for residential use, whereas serviced apartments are built on land zoned for residential, commercial, or mixed-use.  As such, serviced apartments may be rented by businesses and the general public for both short-term and long-term accommodation. If you are an expatriate relocating to Singapore, you can speak with your employer about arranging for your interim OR entire period of stay in a serviced apartment.
Renting from a condo means renting from an apartment owner, whereas renting a serviced apartment means renting directly from the property owner or manager of the development. When you choose to rent a serviced apartment, you will have more accessibility to round-the-clock services, more resources when presented with repairs and maintenance works and higher flexibility on lease periods.
Great World Serviced Apartments is a mixed-use development adjoining Great World mall. This provides you with added convenience with easy access to a wide range of retail, grocery stores and food and beverage outlets right at your doorstep.
2.4. Cluster Houses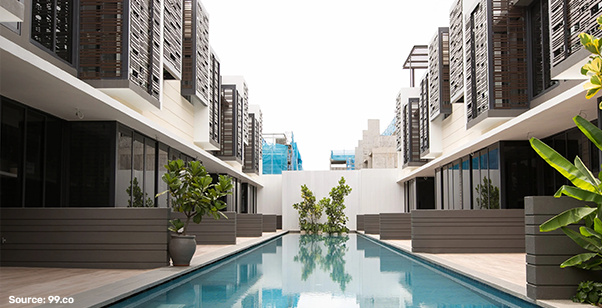 A cluster house is a combination of a condo and a landed property. It is a private residence with communal facilities and services shared by a small number of neighbouring houses within an enclosed compound. Sometimes they are detached properties, other times they are conjoined.
It is a less expensive version of a landed property, where they get to enjoy the privacy of their own home, the convenience of an estate-managed pool, private parking, gym, and other amenities, giving them the best of both worlds.
2.5. Landed Properties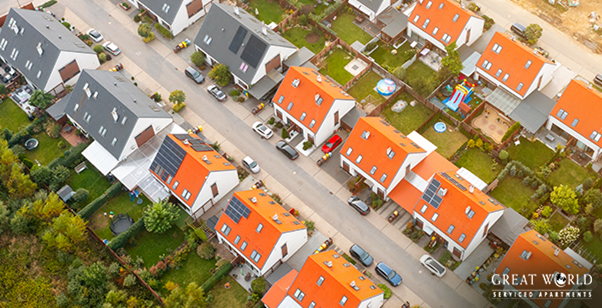 Landed properties are houses where the owner has the title to the land. These are typically terraced, semi-detached, or fully detached houses that are privately owned. In Singapore, the latter is also known as a Bungalow.
The sale prices of these houses typically range in the millions to tens of millions but the less expensive ones are usually located far from the city centre and are smaller in size. Renting these houses will also be expensive, as there are additional costs to consider such as pest control, pool and landscaping maintenance, and other property management costs.
2.6. Conservation Homes
These are homes designated as conservation buildings by Singapore's Urban Redevelopment Authority as historically significant, restored, and protected. They are divided into two groups.
Shophouses

These are typically rows of brightly coloured terraced houses in central Singapore. They can range in height from two to three stories and have well-kept interiors. These properties, however, lack outdoor space and recreational amenities.

Black and Whites



Singapore's Black and White houses are colonial buildings built between the late 19th century up until the pre-war era of the 1930s. They are massive bungalows or one-room terraced properties, carrying a distinctive design with dark timber beams and white-washed walls. It is estimated that only about 500 of these properties remain in Singapore.

To rent a Black and White, you must first go through a closed auction with the Singapore Land Authority. While prices tend to remain more stable and people living in these properties pay less than the current market rate, this is changing due to the exclusivity and popularity of such accommodation types.
RENTING IN SINGAPORE
3.1. Short Term VS Long Term Leases
Short-term accommodation and rental, defined as short stays of less than three consecutive months, is not allowed at regular residential properties in Singapore. All such properties, condominiums, HDB flats, bungalows, etc. are only intended for long-term residence due to the lack of land space and housing supply. It is illegal for property owners and tenants to rent out their properties for short-term stays. This includes renting them out to short-term visitors as 'hotels', 'hostels', 'motels', 'Bed and breakfast' or 'Homestays'.
This regulation helps to protect the safety and privacy of homes, as well as the residential character of local communities, which would be jeopardised by the presence and frequent traffic of short-term visitors.
Individuals found guilty of engaging in short-term accommodation face a fine of up to $5,000 under the Planning Act. Those who are non-compliant or engage in short-term accommodation at multiple properties will be prosecuted. To date, many of these individuals have been charged in court, resulting in significantly higher fines.
All private residential properties have a minimum lease requirement of three months, and HDB flats require a six-month minimum stay. You will have to rely on hotels or serviced apartments for short-term rentals.
There are important considerations and legal procedures to follow when signing a long-term lease.  Rental properties can be found on local property search websites while serviced apartment options can easily be obtained via a simple Google search. In comparison, serviced apartments are an excellent choice for both short and long tenures as they offer greater flexibility and a simpler leasing process.
3.2. Rental Procedure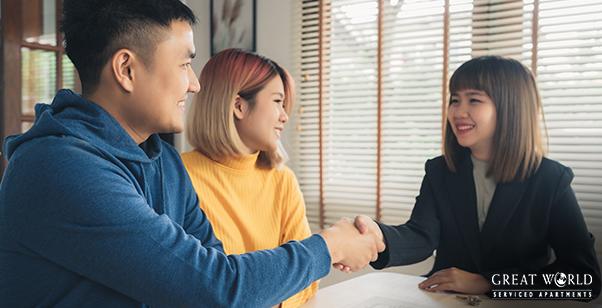 Once you decide to take up a property, you will need to prepare the following items:
A photocopy of your passport
A photocopy of your employment pass
One month's rental for the good faith deposit
Thereafter, you will need to prepare several other documents. The rental procedure in Singapore is a rather straightforward one with a few clear steps to follow.
Letter of Intent (LOI)
This is a letter to the landlord proposing your intention to lease and outlining your requirements. This is not a legally binding document.
Good Faith Deposit
This is a booking deposit that is given to the landlord along with the Letter of Intent. You will be required to submit this deposit after signing the LOI. Once the landlord accepts the deposit, he is not allowed to rent the property to another person. On top of the Good Faith Deposit (GFD), there will also be a Security Deposit, which is an additional amount on top of the GFD. A Security Deposit

 is a sum of money held in trust as an initial payment during a rental agreement, to ensure the property owner against default by the tenant.

Tenancy Agreement
This is a legally binding agreement between you and the landlord. Before signing, always double-check that the terms stated in the LOI match those in the Tenancy Agreement. Any legal fees (stamp duty) incurred in drafting the agreement are usually borne by the tenant. This amount is payable directly to the Inland Revenue Authority of Singapore (IRAS) prior to the commencement of the Tenancy Agreement and is calculated at a rate of 0.4% of the total amount based on the monthly rental amount and the duration of the tenancy.The Diplomatic Clause is an important term to remember when signing this agreement. This protects you in the event that you lose your job or are transferred to another country. After 12 months, you can give a 2-month notice to end the lease. Please keep in mind that most landlords will include the diplomatic clause only if the lease is for more than a year.
Inventory List
On or before the day of handover, the landlord will usually prepare an Inventory List. Check the list of items for anything that is not as described or deviates from what was agreed and make a note of it. To protect yourself, take pictures of items or areas that are already damaged.
The rental process in Singapore, while simple, can be complicated for those who encounter challenging landlords. It will also be difficult to get everything settled properly, especially if you are currently based outside of Singapore.
Before you begin your property search, you must determine which factors are most important to you. For instance, location, price, amenities, or other considerations.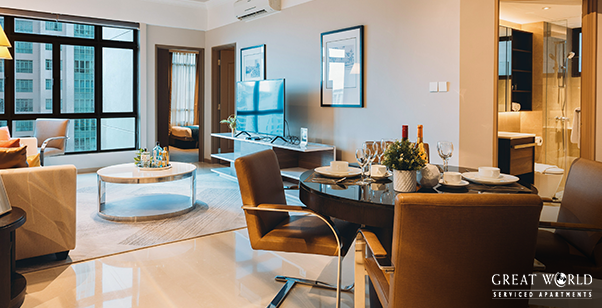 In recent years, serviced apartments have emerged as a viable alternative to hotels and other forms of accommodation, not only for short-term but also for long-term stays. They are popular for their cost-effective rates, convenience, and high level of service quality. You can expect the following amenities and features when you rent a serviced apartment:
One or more separate bedrooms depending on the apartment rented
A living area, dining area, work area and bathroom(s)
Modern in-room technologies such as keyless entry, a television, cable TV, wireless internet, and more
A kitchenette or a fully equipped kitchen, complete with a dishwasher and washer/dryer
All basic utilities including water, gas, and electricity
Weekly housekeeping services, depending on the property
Communal amenities such as meeting rooms, lounge, pool, gym, and children play area
Concierge, maintenance, and security services
A 24-hour helpline
Great World Serviced Apartments has over 304 fully furnished apartments designed with your needs in mind. Whether you are staying for a week or for months, rent from a 2 bedroom to 4 bedroom apartment, or live it up in one of the penthouses, to experience city life in an urban landscape. Limited 1 bedroom apartments are also available for guests seeking single accommodation. For animal lovers, we are a pet-friendly accommodation so we welcome your pets.
Connected to Great World shopping mall and just a stone's throw away from the hustle and bustle of Orchard Road, it takes minutes to reach Singapore's financial and cultural districts. Experience greater accessibility with the new Thomson-East Coast MRT Line from late 2022. Work up a sweat at The Gym @ L2 or simply chill by our near Olympic-size swimming pool or the Patio. Make time for your family and plan playtime for the kids at the indoor and outdoor play zones. If you are looking to stay in an amazing location with a full range of facilities for almost everyone in the family, book your stay now at Great World Serviced Apartment! Learn more about our accommodation options here.